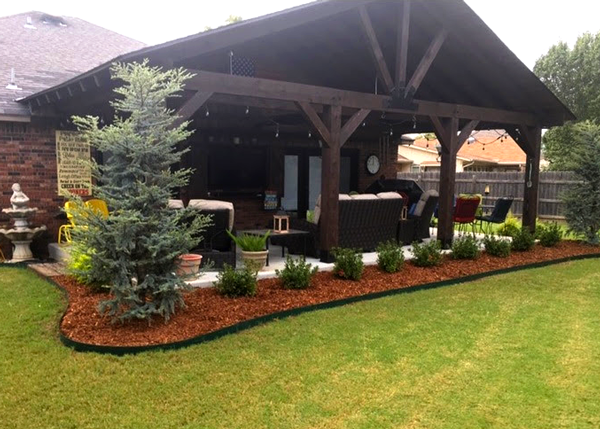 Flowerbed Pre-emergent & Fertilizer
Weeds are a big problem in flower beds. As you change out your beds with new plants and flowers throughout the year, you're constantly disturbing hundreds of weed seeds in the soil. Your dirt is naturally teeming with weed seeds so when you stir them around, you invite new weed growth. We offer an easy, stress-free weed control program.
How our flowerbed Maintenance Works
We apply a granular flower-and-ornamental-safe pre-emergent herbicides three times per year, usually in February, April and November, to keep your flowerbed weeds down to a bare minimum

Throughout the summer, we treat your flower beds with three fertilizer applications for maximum health and growth.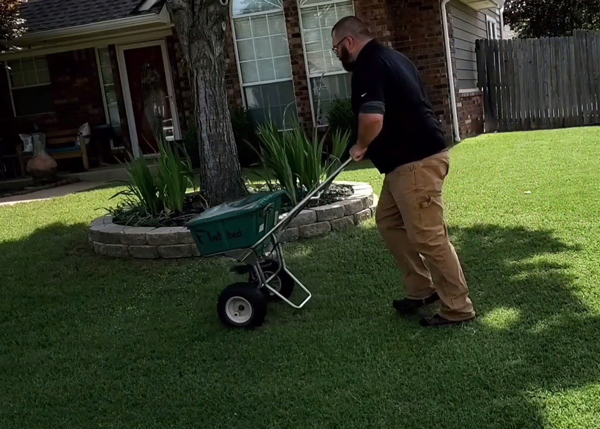 Fertilization
Fertilization is an essential part of any complete lawn care program. We use both liquid and granular fertilization because liquid lawn fertilizer delivers a quick-release of nutrients, while granular fertilizer has a slow-release of food for your plants. These two work together to provide your lawn with the most effective nutrient sources, promoting a healthy, happy, green lawn!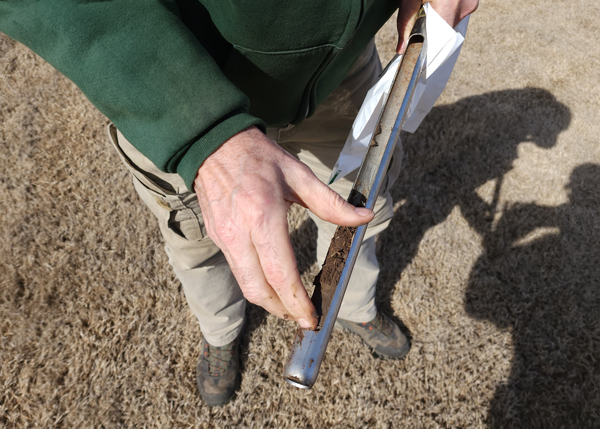 Soil Analysis
All plants, including turfgrass and garden plants, need 16 essential nutrients to grow; most of which come from the soil. A soil test is a chemical analysis that estimates a soil's ability to supply nutrients. Results from a soil test allow us to monitor soil chemical conditions, tap existing nutrient supplies, identify nutrient deficiencies, and apply optimum fertilizer amounts. 
How our soil analysis works
How our soil testing service works:
We take samples from your lawn up to a 6" depth.

We use a soil probe and a clean bag to combine cores or slices of soil from at least 10-15 locations scattered throughout the problemed lawn.

We mix the soil samples thoroughly and fill the sample bag with a pint of the mixture.

We then submit the samples for further testing.
The results from your soil sample will determine the treatments for your lawn.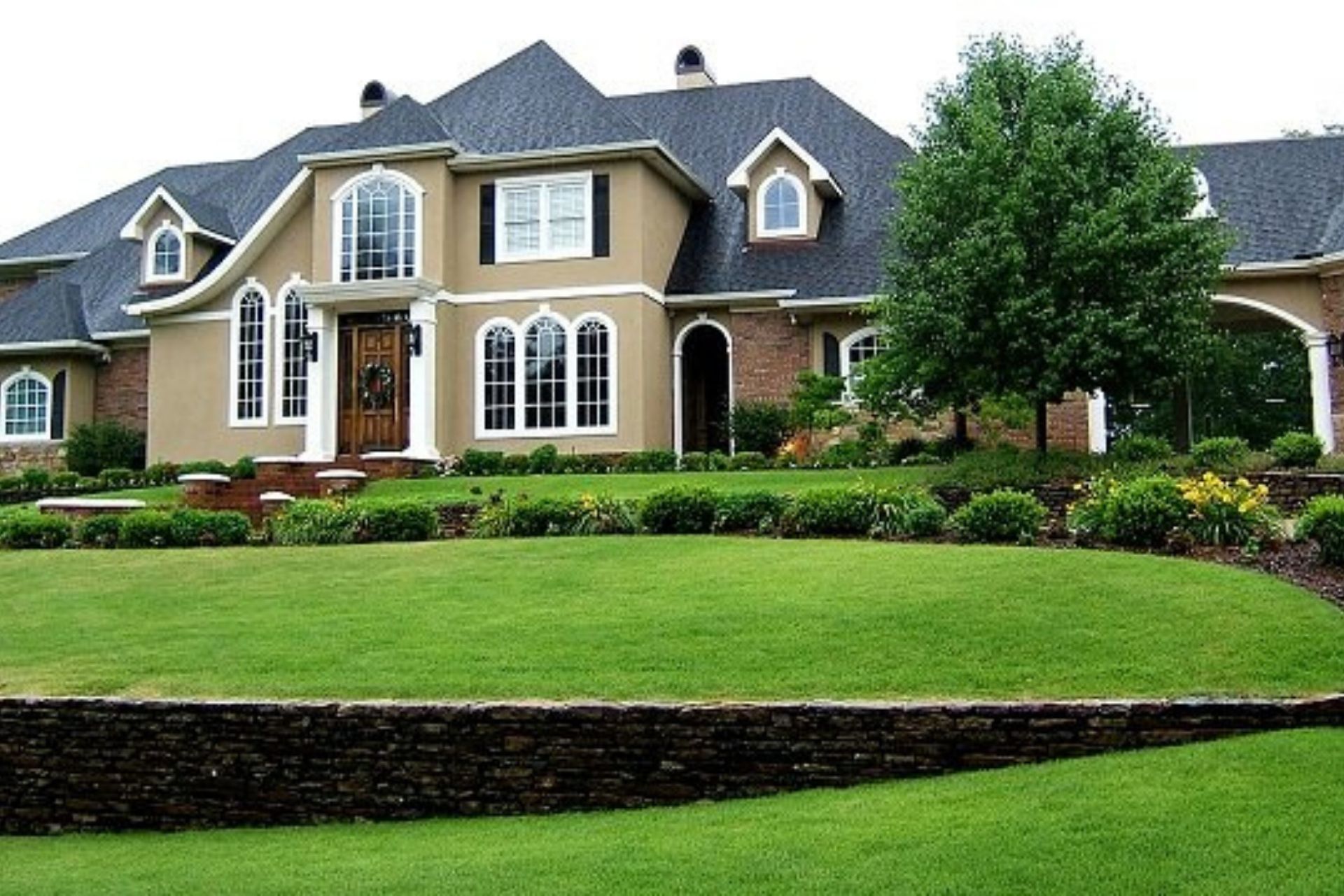 Liquid Aeration
We offer an environmentally-friendly, liquid aeration product to complement your GreenGrass Lawn Care program. Core aeration with a machine has long been the standard for soil aeration, yet it affects just 3-5% of a given area, at a depth of only 1-2 inches. Our liquid aeration application treats 100% of a given area and reaches down past the root zone. This liquid aeration will not only aerate your soil without the mess of mechanical aeration, it will also increase the particle size of the soil, changing the soil structure itself.
How our liquid aeration program works
Here's how liquid aeration works:
Liquid aeration stimulates soil microbes, in turn reducing compaction. Reduced compaction will do the following:
Break up soil

Improve soil structure

Increase water infiltration

Increase air penetration

Allow roots to grow deeper
Because liquid aeration breaks up the soil, it allows your grass to more efficiently use water and nutrients.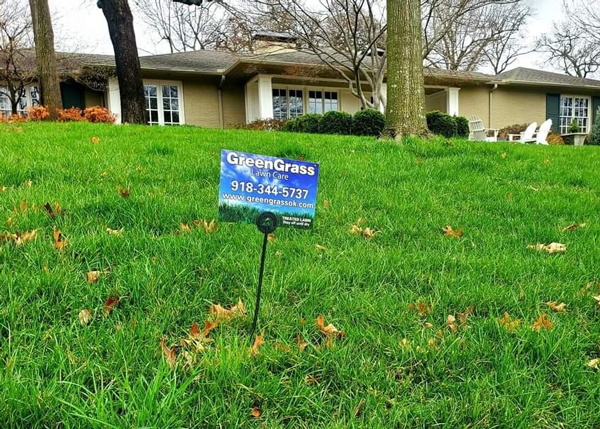 Fescue Seeding
We offer spring and fall overseeding of fescue grass. Yearly fescue overseeding will keep your fescue thick and healthy. All fescue areas should be overseeded each fall, because in Tulsa we're in a transition zone that is really too hot for fescue. Fescue will grow in full sun in climates farther north, but here we plant it in the shade. Each summer, our 100° plus weather kills out a lot of our fescue. Fescue also needs sunlight. When we seed your lawn in the fall, the leaves are falling off the trees and the temperatures are cool. 
How our fescue seeding program works
 Before your scheduled fescue seeding:
We call to let you know when we'll be out, so you can water and rake up the areas to be seeded 
During your scheduled fescue seeding: 
We broadcast the fescue blend.

We apply a light covering of peat moss to thin or bare areas.
 After your scheduled fescue seeding:
Water

lightly

2-3 times per day to keep the seeds moist (in the absence of rain). 

If the seeds dry out, they will not germinate and if the seedlings dry out, they will die. 

Water is essential to the success of the seeding, but don't water too much.  Heavy watering will cause puddles and your seeds will clump up in spots. 

Keep seed moist throughout germination period.

Don't mow until the seed is up and 3-4 in. tall. 

When you first mow, be careful when turning, so you don't gouge the soil.

Keep the leaves off of the seedlings so they can get sunlight. 

DO NOT rake, or you will pull up the seedlings. 

Blow leaves off of turf carefully.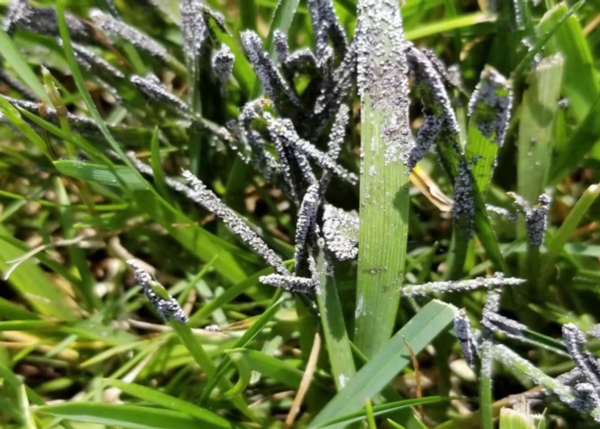 Fungi & Disease Treatment
Just when you think your lawn is doing great, up pops a big brown spot.  Then it gets bigger. All of a sudden you have a LOT of brown spots.  What happened? Some lawn diseases develop due to certain weather conditions, others due to agronomic conditions.
If your lawn shows signs of disease, and you are in between service appontments call us! We can help. We offer fungi/disease treatment in addition to your complete lawn care plan.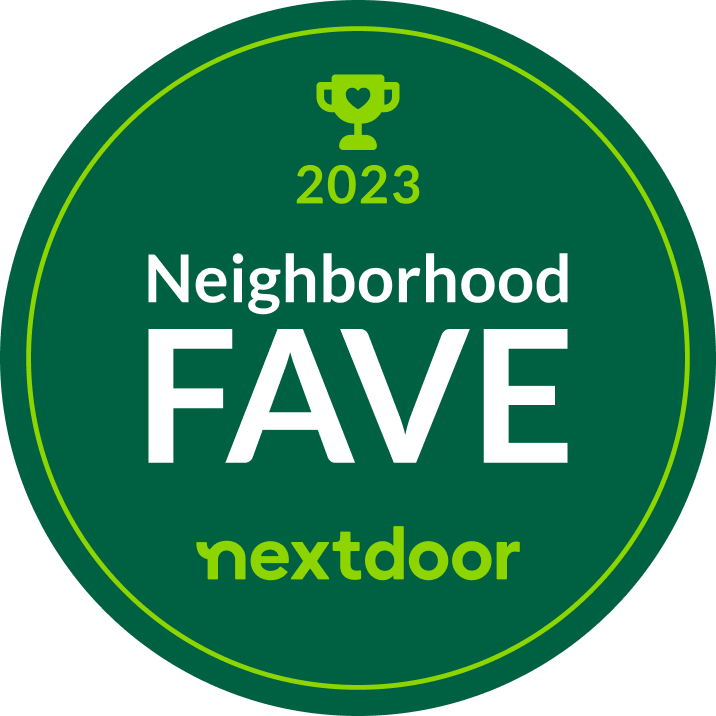 Office Hours
 8:oo am -5:00 pm 
Monday - Friday
Mailing Address
1700 N Indianwood Ave.
Broken Arrow, OK 74012 
Bixby

Broken Arrow

Catoosa 

Claremore 

Collinsville 

Coweta 

Glenpool 

Jenks

Owasso

Sand Springs

Sapulpa 

Tulsa

Bartlesville